I TELLAI NEWSLETTER
The I Tellai Newsletter June 2023 issue is available now!
Download
29th Annual GSAT Conference and Expo
The University of Guam Center for Excellence in Developmental Disabilities Education, Research, and Service (Guam CEDDERS) in collaboration with tri-agency partners Guam Legal Services Corporation-Disability Law Center (GLSC-DLC) and the Guam Developmental Disabilities Council (GDDC) hosted the 29th annual Guam System for Assistive Technology (GSAT) Conference, "Raising the Bar: Live, Work and Play with Assistive Technology," on April 21 at the Hilton Guam Resort Micronesian Ballroom. Over 160 individuals participated in the event.
On April 29, 2023, the Guam System for Assistive Technology received recognition for their collective efforts in the field of assistive technology. The legislative resolution was introduced by Senator Roy Quinata, relative to recognizing the Guam System for Assistive Technology (GSAT) on the occasion of its 29th Annual GSAT Assistive Technology Conference and Expo.
FSM Provides Support to Project LIFT Coaches
From April 5-11, the Federated States of Micronesia (FSM) National Department of Education (NDOE) in partnership with Guam CEDDERS and Sigma Associates Incorporated (Inc.) provided on-site support to Project Literacy Intervention for FSM Leaders of Tomorrow Technical Assistance & Training (FSM TA & T) coaches.
GDOE Provides Math Professional Learning
On April 10, the Guam Department of Education, along with Guam CEDDERS, supported the State Systemic Improvement Project (SSIP) target schools in a K-3 math professional learning session held at Westin Resort Guam. The session was facilitated by Dr. Alicia Aguon, Math Professor and SOE Dean, of the University of Guam.
GSAT has a mission to increase the community's access to assistive technology by bringing about awareness of AT devices, services, resources, and vendors. Moreover, GSAT strives to help island residents with the acquisition of AT by providing means and resources to obtain desired AT devices and services.
The Guam EHDI Project is 100% federally funded and was established in 2002 through a federal grant awarded to the University of Guam Center for Excellence in Developmental Disabilities Education, Research, & Service (Guam CEDDERS) by the U.S. Department of Health & Human Services (HHS), Health Resources and Services Administration (HRSA) to establish Guam's Newborn Hearing Screening and Intervention Program.
Tri-Agency Partners on Developmental Disabilities
Mission
To promote, educate, and advocate for equal rights and access to justice for our underserved communities.
Vision
To ensure that the most vulnerable in our community become self-reliant and knowledgeable of their civil rights and liberties through client-centered services.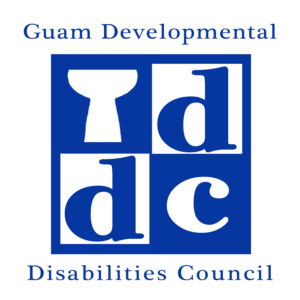 The Guam Developmental Disabilities Council (GDDC) serves as the Territory of Guam's Council on Developmental Disabilities (DD).  Under federal law, Public Law 106-402, each state and territory are authorized to establish a Council on DD, which receives funds to carry out initiatives for systems-change, capacity building, and advocacy.  Through these activities, the Council promotes the inclusion, integration, independence, and productivity of individuals with intellectual and developmental disabilities in all areas of community life.