I TELLAI NEWSLETTER
The I Tellai Newsletter March 2023 issue is available now!
Download
GDOE Facilitates Sessions on Paraeducator Procedures
The Guam Department of Education (GDOE) Division of Special Education, in partnership with Guam CEDDERS, held a series of sessions during the week of January 30 – February 3, 2023 facilitated by Mary Schillinger, a nationally recognized expert on severe disabilities. Participants in the sessions included Special Education coaches, Early Childhood Special Education Preschool teachers, Head Start representatives, Elementary Individualized Educational Plan (IEP) coordinators, parents of children transitioning into kindergarten, school administrators, and division leadership members.
Palau Partnership Increases ASD Awareness
Through a contract with the Republic of Palau, Ministry of Education (MOE), Special Education Program, Guam CEDDERS June De Leon, Interim Director, supported the local partnership between the MOE, Ministry of Health and Human Services (MHHS), and Palau Parents Empowered (PPE) in January.
GSAT and GEHDI Public Awareness
On February 11, CEDDERS staff participated in the Freedom Park Swap Meet to disseminate information about the Guam System for Assistive Technology (GSAT) and Guam Early Hearing Detection and Intervention (GEHDI) Project.
GSAT has a mission to increase the community's access to assistive technology by bringing about awareness of AT devices, services, resources, and vendors. Moreover, GSAT strives to help island residents with the acquisition of AT by providing means and resources to obtain desired AT devices and services.
The Guam EHDI Project is 100% federally funded and was established in 2002 through a federal grant awarded to the University of Guam Center for Excellence in Developmental Disabilities Education, Research, & Service (Guam CEDDERS) by the U.S. Department of Health & Human Services (HHS), Health Resources and Services Administration (HRSA) to establish Guam's Newborn Hearing Screening and Intervention Program.
Tri-Agency Partners on Developmental Disabilities
Mission
To promote, educate, and advocate for equal rights and access to justice for our underserved communities.
Vision
To ensure that the most vulnerable in our community become self-reliant and knowledgeable of their civil rights and liberties through client-centered services.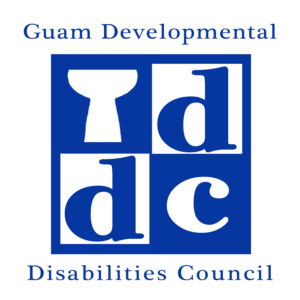 The Guam Developmental Disabilities Council (GDDC) serves as the Territory of Guam's Council on Developmental Disabilities (DD).  Under federal law, Public Law 106-402, each state and territory are authorized to establish a Council on DD, which receives funds to carry out initiatives for systems-change, capacity building, and advocacy.  Through these activities, the Council promotes the inclusion, integration, independence, and productivity of individuals with intellectual and developmental disabilities in all areas of community life.